February 6, 2009 12:48 pm
I couldn't really find anything to post about today; I was going to put something up about this art history website or this cookie monster cupcake.  That is, until I stumbled upon Eat Me Daily dot com.  I read a lot of music blogs and hope that food blogs are not going to be a new obsession.  Tv and commercials decide what I eat:  I went to Chilli's the other night cause I was hungry and their commercial came on.  I sometimes go to Taco Bell if they advertise about a new burrito.  I get excited about restaurants from Check, Please.  So I don't need the internet to tell me what to hunger for also.
I don't have cable here at the house, so Top Chef or Ace of Cakes or Anthony Bourdain can tell me what to eat either.  But Anthony did slip through the cracks through a post on EatMeDaily.com talking about a place in Chicago called The Silver Palm.  They eat a sandwich called the Three Little Pigs Sandwich, which is smoked ham, a breaded pork cutlet, two strips of bacon, and two fried eggs, blanketed in a thick coat of gruyere, all on a brioche bun. Try not to get excited about eating that (If you can get past Mancow being a tool in the video).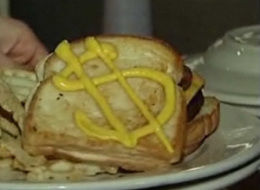 The Silver Palm reminds me of Kuma's Corner, my favorite place to eat in Chicago.  It's a heavy metal bar that serves awesome food like the pulled pork fries, like the make your own macoroni and cheese where you have the option to add Bacon, Prosciutto, Andouille, Chicken, Roasted Red Peppers, Caramelized Onions, Sun Dried Tomatoes, Broccoli, Peas, Mushrooms, Scallions, or Sweet Corn, and burgers like GOBLIN COCK that has Bacon, Cheddar Cheese, ¼lb. Vienna Hot Dog, Tomatoes, Onion, Neon Green Relish, Sport Peppers, Pickles, Celery Salt Mustard or the IRON MAIDEN that has Avocado, Cherry Peppers, Pepper Jack, Chipotle Mayo.   Sorry to have to list all that.  I don't know how else to describe it's awesomeness.  They have a burger of the month that last month featured the #!@%¿ Blagojevich Burger that comes with bologna on wonder bread.  Its $10.00, but the price is negoitable.
Categorised in: Activities, Shh..cago
This post was written by Brian